Cortland County Radioactive Dump Collection
Cover Image: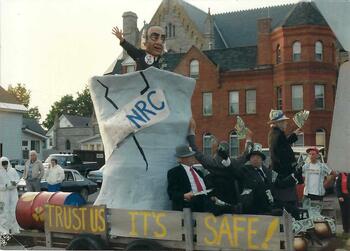 Collection Facts
Dates of Original:
1989-1995
Historical Context
In the 1980s, a federal law passed declaring that each state had to manage its own low-level radioactive waste.  New York established the Low-Level Radioactive Waste Siting Commission to find sites within the state that could be appropriate for a nuclear waste dump. Sites were considered for their population, distance from aquifers, and other factors. Proposed sites were narrowed down to two in Cortland County and three in Allegany County, and grass-roots coalitions quickly organized with a mission to prevent the dump from being in their backyards. 
Using methods of non-violent protest, civil disobedience, and through educating the public, these citizens' groups united their communities to impede the efforts of the Siting Commission, and advocate to Governor Mario Cuomo to challenge the federal law.
This collection of photographs, clippings and other documents includes materials donated by Jim and Jean Weiss of Freetown in Cortland County, who were active protestors against the dump and members of CARD (Citizens Against Radioactive Dumping), as well as from Gary and Patti Michael, co-founders of CARD.
Scope of Collection
Photographs taken by protestors and clippings from local newspapers.
---
Browse within this collection
Browse similar collections