Cover Image: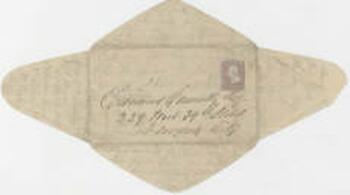 Collection Facts
Dates of Original:
1861-1864
Historical Context
William Butler was born in 1831 in New Castle, Ireland. He was the fourth-youngest son of Edward
Butler of Bohernagaul, in the County of Tipperary. At the age of thirteen, Butler was apprenticed to merchant James Leara, of Clonmel, for seven years. By 1859, Butler had immigrated to the United States and settled in New York City. Through his letters, it is known that he had two brothers and a sister also living in New York in the 1860s. On March 1, 1859, he enlisted in the 69th Regiment of the New York Militia as a lieutenant. He was discharged in August, but re-enlisted as a captain in November. He was discharged again in September 1862 but re-enlisted the following month. Butler eventually achieved the rank of a Major. He was wounded in a battle near Petersburg, VA on June 16, 1864. Butler died in August 1864 in a United States Hospital in Annapolis, MD.
Scope of Collection
The collection consists primarily of correspondence between William Butler and his family during the Civil War. His letters began in 1861 when he was sailing to Annapolis on a troop ship and continue until his death in August 1864. Some months he wrote almost daily while others he wrote sporadically. His letters document the everyday concerns of a Civil War soldier including life, death, health, clothing, money and liquor. The majority of the letters are written to William's brother Edmund with his other brother James and his sister Margaret appearing occasionally. Included are his Certificate of Commission as a 1st Lieutenant and his letter of discharge from 1862.
---
Browse within this collection
Additional Information
Scope and Content Source:
Browse similar collections