Cover Image: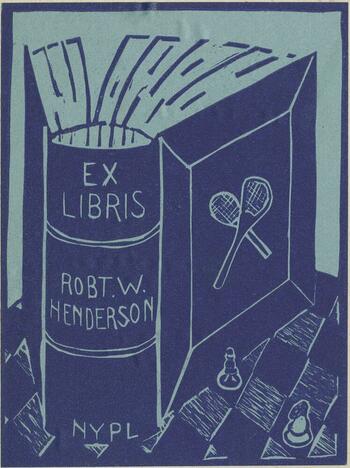 Historical Context
St. Joseph's University holds rare books as old as 1660. Oftentimes, centuries-old books have lived vast lives around the world, rapidly changing hands and accumulating signs of wear and use, including marks of ownership. One such claim to ownership is the bookplate or ex-librīs - a personalized illustration printed on a separate thick piece of paper and added inside the book by its newest proud owner.
As St. Joseph's University - Callahan Library has 19 special collections and a separate rare books collection, many remarkable examples of bookplates can be found, particularly from the early 20th century. Most of these special collections items were not acquired by the Library as new items but came as donations from a myriad of sources; many items serve as unique samples of book history and regional histories alike.
This New York Heritage Collection aims to serve as a small contribution to the study of ex-librīs collection and utility, as well as to shed light on bookplate designs and implementations historically used by institutions and book lovers in the New York metropolitan area and beyond.
Scope of Collection
Bookplates found inside rare books and special collections items at St. Joseph's University - Callahan Library. Bookplates in this collection come from SJNY special collections including American History, Fire Island, the Gilded Age, Long Island, New York State, and Roosevelt.
Browse similar collections