Two scrapbooks compiled by Anne Maycock Hopkins, wife of Dr. Horace G. Hopkins, physician at former Willard Asylum and Willard State Hospital from 1874-1894.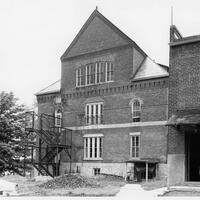 Collection of photographs taken from 1957 through 1968 of various buildings and grounds of Willard Psychiatric Center. The black-and-white photographs contain detailed studies of various buildings of the hospital, many of which have been since torn down
The William N. Weeden Color Printing Manuscript is an inventor's hand-written account in 1886 of his discovery of a printing method that produced multi-color printing with one impression. The collection includes color prints generated by the process.