A collection of scrapbooks compiled by Highland Hospital School of Nursing students in the 1920s.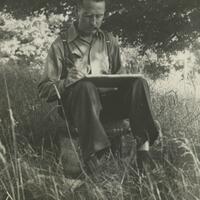 This collection contains photographs and scrapbooks from Justus F. Mueller that relate to his research and career as a Professor of Microbiology at Syracuse University and SUNY.
The Trudeau Sanatorium, located in the Adirondack region, was known for its open-air treatment of tuberculosis patients. This collection of early 20th century photographs, depicting scenes at the Sanitorium, was taken by patient Margaret Hort.