This collection contains manuscripts, including handwritten copies of regimental histories and individual personal histories of Orange County soldiers who fought in the Civil War.
This collection contains letters written by Captain John McConihe to his business partner, John B. Kellog.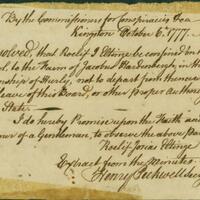 Beginning in 1777, this collection follows Roelof Josiah Eltinge through his legal troubles of being an accused loyalist in New Paltz, NY.