Cover Image: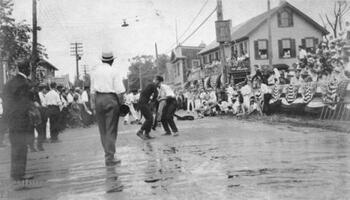 Collection Facts
Dates of Original:
c. 1890 - 1940
Historical Context
The village of Westbury is located in Nassau County, New York, as part of the Town of Hempstead and was established in 1932. Westbury has grown to have a diverse population throughout the late nineteenth to early twentieth centuries and is home to multiple well-known television and radio personalities, such as Howard Stern, and professional baseball players.
Scope of Collection
The Westbury Local History collection consists of still image photographs which tell the history of the Westbury area. A majority of the photographs share stories of the local fire department.
---
Browse within this collection
Additional Information
Scope and Content Source:
A larger collection of photographs than what has been digitized that tell the local history of the Westbury area.
Browse similar collections