Smith and Telfer Photographic Collection
Cover Image: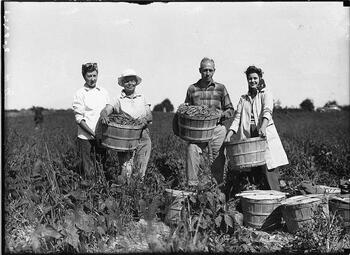 Collection Facts
Dates of Original:
c. 1860 - 1943
Historical Context
Washington G. Smith (1828 – 1893) and Arthur J. Telfer (1859 – 1954) spent almost one hundred years photographing people, events, and scenes in and around Cooperstown. At the time of his gift Telfer was 93 years old and was widely thought to be the oldest working photographer in the United States. Washington Smith worked with partners while he learned the daguerreotype and ambrotype processes in the 1850's. In 1864 he bought the Willoughby Block in Cooperstown and established his own "Photographic Gallery" where he remained until his death in 1893. Telfer reluctantly joined Smith in 1887; he suspected that photography was a passing fad but Smith assured him that as long as folks continued to have weddings and babies he would never want for work. Telfer continued the business after Smith's death and for another sixty years beyond. While portraits provided the bulk of their income, both photographers ventured outside the studio to record the world around them using large view cameras and, for the most part, glass plate negatives. In 1951 Arthur "Putt" Telfer donated approximately 54,000 glass plate and film negatives to the New York State Historical Association, a priceless record of his work and the work of his predecessor Washington G. Smith.
Scope of Collection
The online Smith and Telfer photographic collection shows 300 of 500 printed images from a collection of over 53,750 glass plate negatives.
---
Browse within this collection
Browse similar collections