Sacandaga Park, NY Postcard Collection
Cover Image: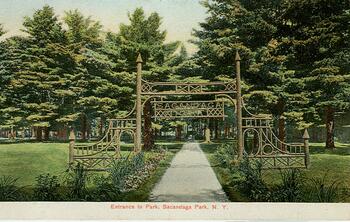 Collection Facts
Dates of Original:
c. 1900 - 1930
Historical Context
The Great Sacandaga Lake, created between 1920 and 1930, is located in the Adirondack area. With the creation of the Great Sacandaga Lake, came the dislocation of communities, cemeteries, and highways. One community affected was Sacandaga Park, known as the Coney Island of the North (c.1880 – 1930). This hamlet, accessible by railroad service, had many hotels, cottages, a golf course, amusement area, sport events, theatre, and general outdoor activities.
Scope of Collection
This collection contains a selection of postcards depicting various sites around Sacandaga Park.
---
Browse within this collection
Additional Information
Scope and Content Source:
This collection contains a larger selection of postcards than what is shown in the digital collection.
Publisher of Digital:
Northville Public Library
Browse similar collections