Robert E. Hager Canal Boat Diagrams
Cover Image: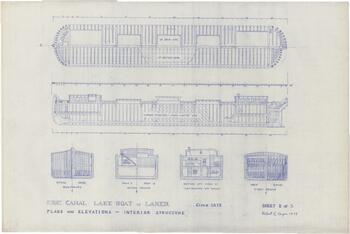 Collection Facts
Dates of Original:
c. 1970 - 1990
Historical Context
Dr. Robert E. Hager (1916 - 2005) was an artist who created works of art about the Erie Canal. He had a passion for studying boats and the canals and was also known drawing diagrams of canal boats for the canal.
Scope of Collection
The Robert E. Hager Canal Boat Diagrams collection includes drawings of construction plans of canal boats used on the Erie Canal throughout the nineteenth century. These drawings were based on his extensive research on boat building techniques. Some diagrams, such as those of the "Lady Carrington II," were used to build scale models of boats for institutions across New York State. The drawings were made on mylar and paper depicting various perspectives of boat exteriors, interiors, and hull construction. These images serve as a small sample of the prolific research and documentation produced by Dr. Hager all of which is preserved in the Chittenango Landing Canal Boat Museum library and archives.
---
Browse within this collection
Additional Information
Scope and Content Source:
Additional drawings by Hager are available in the museum library.
Browse similar collections