Owen Clancy ( 1919?-2003) Collection
Cover Image: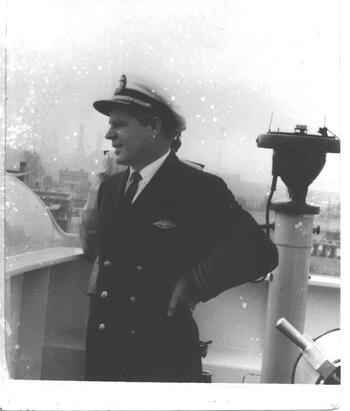 Historical Context
Often sporting a captain's hat and a mischievous smile, Owen Clancy had tales to tell that might refer to Prohibition days when his father, who ran speakeasies, would visit Montauk to pick up spirits from local bootleggers.
The Clancy family, originally from Ireland, moved in the 1930s from New York City to Montauk, where they lived in the fishing village on Fort Pond Bay. Working on fishing boats and also ferrying tycoons to a casino at the Star Island Yacht Club, the future Captain Clancy almost immediately dove into a career on the water – one that would proceed to piloting the largest container ships in the world. During and after a stint with the Merchant Marine, Owen Clancy moved cargo and sometimes passengers during at least four wars and other conflicts. In an oral history for the Montauk Library, he recalled a trip during the Korean War in which the dead were "stacked like cordwood, frozen stiff" and another, during the Vietnam War, in which his ship dodged grenade launchers as he stood on the flybridge, "like an idiot."
The Owen Clancy Collection includes photographs of the "American New York," the flagship of what in the 1980s was a huge step forward for the shipping industry: the use of a single container ship to move freight around the world, instead of moving it in steps on a series of different ships. Owen Clancy had the distinction of being assigned by the United States Lines to captain that ship; one photo in the collection shows him posing in front of the "American" with such dignitaries as New York City Mayor Ed Koch.
Scope of Collection
Among the collection's photos from Montauk's earlier days are one of a large marlin brought into the Jake Wells dock by a sportfishing boat in 1937, a roadside restaurant in 1936 with a young Captain Clancy already wearing one of his trademark nautical caps, and two undated ones of a sparsely developed Montauk landscape. Two photographs depict a 1960s incarnation of Gosman's Dock, where the captain and his wife, Dorothy, ran a clothing store called the Oar House Boatique for two decades. His mother, the former Mary Hoey, worked during World War II at the Wishing Well restaurant on Montauk's Main Street; she appears in two photographs, including one at the family residence in the old fishing village and another, taken decades later, at Mullaghmore, Owen and Dorothy Clancy's hilltop home overlooking Lake Montauk.
---
Browse within this collection
Browse similar collections