Cover Image: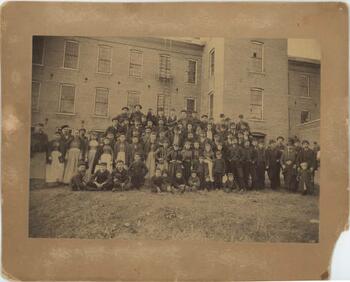 Collection Facts
Dates of Original:
1850-1930
Historical Context
Waterloo was a bustling village in the 19th century and made the most of its advantageous location on the Seneca River.  Businesses and investors built the Bear Race (named for Major Samuel Bear) and expanded the Seneca Canal through the village. 
Local mills included the Waterloo Wool Manufacturing Company, established in part by the Hunt family to be a boycott against cotton created by slave labor.  
Scope of Collection
Photographs and postcards of the mills and mill operations throughout the decades, as well as documents including an important summary of the lawsuit brought by the Waterloo Woolen Manufacturing Company against the superintendent (a representative of the State) for diverting canal water for private enterprises.  There is a letter from the management with regard to a possible weaver strike in 1925.  There are photographs of a fire, which destroyed the fifth floor of the mill building on East Main Street.
---
Browse within this collection
Browse similar collections