Massapequa Library History Collection
Cover Image: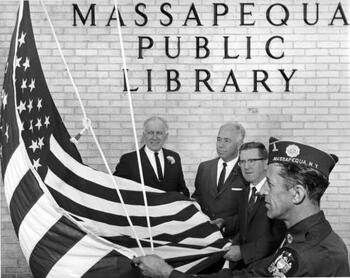 Collection Facts
Dates of Original:
1953-1965
Historical Context
On January 18th, 1953, the Massapequa Public Library opened its doors for the first time. It was a small rented storefront library located on 526 Broadway, Massapequa, at what is the current site of Broadway Pizza. The library received a generous donation of land from the Bar Harbour Shopping Centre, Inc., in 1959. The Ground Breaking Ceremony for the Bar Harbour Library Building was held in April of 1964, and dedication ceremonies were held on June 13th, 1965.
Scope of Collection
The material in this collection focuses on the history of the Massapequa Public Library. It includes photographs, books, pamphlets, magazines and other memorabilia.
---
Browse within this collection
Additional Information
Scope and Content Source:
Browse similar collections