Cover Image: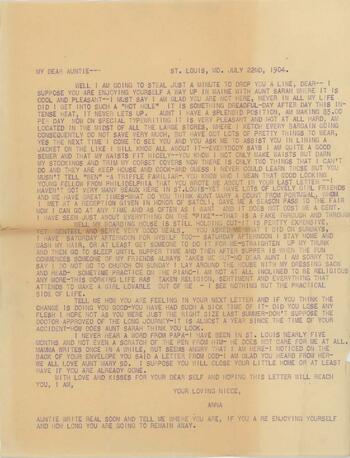 Collection Facts
Dates of Original:
1900-1910
Historical Context
Mary M. Hunt was born in 1838, the daughter of Richard Pell Hunt and his third wife, Sarah McClintock.  Sarah died in 1842, and Richard married Jane Clothier Master.  With Jane, Richard had four children.  One of those children, Jane Master Hunt, married William Trasher.  Jane and William Trasher had four children of their own, one of whom was Anna Trasher.
The bulk of this collection is made of letters written by Anna Trasher in her 20s and having moved to St. Louis.  Anna writes to her aunt Mary and describes the working conditions and housing conditions, as well as a diagnosis of breast cancer in 1905.  
The collection also includes a few letters that Mary Hunt wrote to Judge Hadley in Waterloo. 
---
Browse within this collection
Browse similar collections