Hurricane Agnes and the Flood of 1972
Cover Image: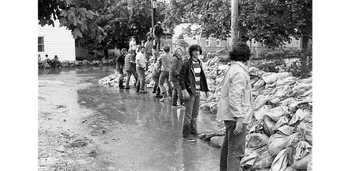 Collection Facts
Dates of Original:
1972, 2022
Historical Context
Hurricane Agnes dropped an unprecedented rainfall on the twin tiers in June of 1972.  Eventually, it was enough to cause the rivers of South Central New York, including the Chemung, the Cohocton, the Susquehanna, the Owasco, and others flooded their banks.  Cities including Corning and Elmira were devastated by the floodwaters, while cities like Auburn were only mildly affected.
Scope of Collection
Oral history interviews conducted in 2022 complement photographs contributed by local residents.
Special Content:
This collection was supported with federal American Rescue Plan Act (ARPA) funds allocated to the New York State Library by the Institute of Museum and Library Services (IMLS).
---
Browse within this collection
Browse similar collections