Glass Workers Oral Histories
Cover Image: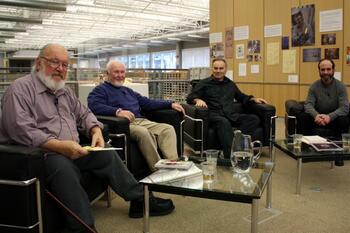 Collection Facts
Dates of Original:
c. 2010-2015
Historical Context
These oral histories focuses on the impact of glass in Corning, NY, and around the world. The recordings in our collection explore a wide range of topics and professions, including glass artists and technicians, glass factory employees, Corning Museum of Glass institutional history,and topics unique to Corning, like the flood of 1972.
Scope of Collection
This collection includes oral histories conducted by staff at the Rakow Library.
Special Content:
We are always interested in adding to our oral history collection. If you would like to contribute your story or recommend someone, please contact rakow@cmog.org.
---
Browse within this collection
Additional Information
Scope and Content Source:
Publisher of Digital:
Corning Museum of Glass - Juliette K. and Leonard S. Rakow Research Library
Browse similar collections