Floods of Schuyler County
Cover Image: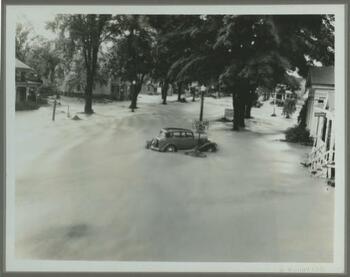 Collection Facts
Dates of Original:
1935-1955
Historical Context
Known as "The Finger Lakes Flood," major flooding affected much of central New York and northern Pennsylvania in July 1935. Devastation was evident in a wide region between the Catskills Mountains and Hornell, from the Pennsylvania border to the Mohawk Valley.  In Schuyler County, one source reported twelve inches of rain fell on the upper Meads Creek watershed in just nine hours. 
The Albany Evening News summarized the flood in their yearly review on December 26, 1935:  "As headlines that flashed across front pages in 1935 recede into memory with the passing year, one New York State news story stands out above all others -- the disastrous July flood in the Southern Tier.  Greatest news event of the year, it was also one of the biggest stories in Empire State history."
One person in Schuyler County died from the 1935 flood.
Local leaders and politicians petitioned the US Army Corps of Engineers and the federal government for increased flood control measures.  These efforts may have been to thank for Schuyler County's relatively minor damage in the severe 1972 flooding caused by Hurricane Agnes.  There was quite a bit of damage in 1972, about $1 million dollar's worth, but nothing compared to the 1935 flooding of Schuyler County or what Corning and Elmira faced in 1972.
Scope of Collection
The majority of this collection is comprised of photographs from the 1935 flood.  There is also a set of correspondence between the mayor of Watkins Glen and other politicians about getting flood control measures put in place in the 1940s and 1950s.  
Special Content:
This collection was supported with federal American Rescue Plan Act (ARPA) funds allocated to the New York State Library by the Institute of Museum and Library Services (IMLS).
---
Browse within this collection
Browse similar collections