Flood of 1972 in Cayuga County
Cover Image: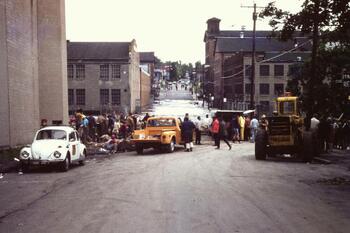 Historical Context
These fifteen color slides were taken by Stanley Hojnacki.  Stanley W. Hojnacki was born in Syracuse.  In the 1930s, he joined the Civilian Conservation Corps and worked on bridges and trails at Fillmore Glen State Park in Moravia.  On Sundays, the boys were bussed to Auburn where he met Julia Hojnacki and married her in September 1938.  They resided on Perrine Street for most of their married life and raised a daughter and a son.  He was employed for over 25 years as a machinist at Columbian Rope Company and retired from B. E. Hedges Company.  He was a veteran of the European Theater in World War II as a Staff Sargeant in the 65th Division of Patton's Third Army and witnessed the atrocities at two concentration camps.  He was a dedicated parishioner at St. Mary's Catholic Church.  He loved photography and was always taking photos of flowers, especially roses at Hoopes Park, as well as wildlife and autumn scenery at Howland's Island Wildlife Refuge.  He passed away in February 1998.
Special Content:
This project was supported with federal American Rescue Plan Act (ARPA) funds allocated to the New York State Library by the Institute of Museum and Library Services (IMLS).
---
Browse within this collection
Browse similar collections