Cover Image: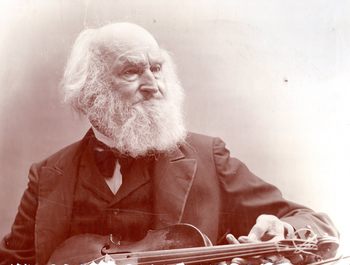 Collection Facts
Dates of Original:
1852-1970
Historical Context
In the first part of the 20th century a concerted effort was made by a man, Mr. VanAlstyne, to put together a genealogy of Palmyra, N.Y. families. Letters were written and photographs were sent back. These photographs became the nucleus of the Palmyra Community Library's Family Photo files.
Photographs collected scan years from the mid-1800s through the 1970s. They include people that were recognizable in the community and everyday people. Most photographs were taken by local photographers but some are candid "snapshots." Community events were captured, street scenes, snowstorms, modes of transportation, the Erie Canal, fire departments, schools and school children. Local sports teams are identified.
Scope of Collection
The Family Photos Collection of the Palmyra Community Library's Local History Room consists of 2 file cabinet drawers and 3 oversize photo boxes and 1 extra large oversize box consisting of: 164 folders including 632 individual photographs; 57 oversize photographs in 3 oversize boxes and 36 oversize photographs in 1 extra-large oversize box for a total of 725 photographs.
Photographs are primarily of the people of Palmyra, N.Y. Other photographs are of people related to Palmyra in some way, organizations, sports teams, schools, businesses, street views, events and elements of transportation such as horses and buggies, the Erie Canal and boats, automobiles and trains.
---
Browse within this collection
Additional Information
Scope and Content Source:
Browse similar collections