Edwin A. and Mary Hopper Hopkins Family Papers
Cover Image: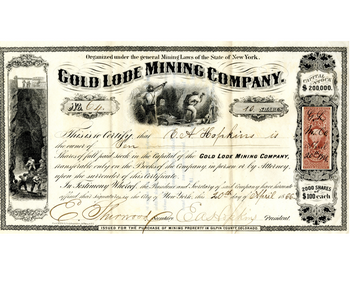 Historical Context
The Hopkins family arrived in the 1700s at Oyster Bay in what is now Glen Cove and there they built their homestead called "Aarberg." The Hopper family of Philadelphia were prominent Quakers involved with the abolitionist movement. The Hopkins collection named for Edwin A. married Mary Hopper (the daughter of Isaac T. Hopper and the half-sister of Abby Hopper Gibbons) in 1858. The marriage of Milton Hopkins Jr. (the grandson of Mary Hopper) to Elizabeth Robbins Hewlett in 1945 brought together two of Long Island's oldest North Shore families and created the connection to the Hopkins Family Papers gifted to the Port Washington Public Library.
The Edwin A. Hopkins family lived at "Aarberg", a farm in Glen Cove, New York. The house, which was located on the east side of Cedar Swamp Road, was built by Silas Hopkins in the second half of the18th century. It was demolished in 1965 to make room for St. Hyacinth's elementary school, which still occupies the site.
Mary Hopper Hopkins was the daughter of Isaac T. Hopper (of Philadelphia) and his second wife, Hannah Attmore (daughter of Sarah and Thomas Attmore).
Milton Hopkins attended Columbia University Law School and was admitted to the Bar in New York in 1886. He was married to Sue West on October 24, 1903. Their children were Milton Jr., Vincent West (d. 1913), Mary and Julia. Mary Hopkins was married to Lawrence Rivers, Jr. in 1935. Julia was married to Francis Courtenay Washburne around 1940.
Born in Glen Cove, Milton Hopkins, Jr. (1906-1983), moved to Port Washington in 1917 and attended local schools. He graduated from Amherst College in 1930, received his M.A. and Ph.D. in biology from Harvard University, and was a professor of biology at the University of Oklahoma from 1936 to 1945. He was married to Elizabeth Robbins Hewlett of Port Washington, New York in 1944, and in 1945 they returned to Port Washington to live in the Hewlett homestead on Port Washington Boulevard, which was built in 1712. Ms. Hewlett, a member of one of the oldest families on Long Island, was a descendant of Louis Samuel Hewlett. The Hopkinses lived in the Hewlett house until 1980.
Scope of Collection
The Hopkins family papers span two centuries (1735-1963) and include correspondence, diaries, legal documents, household inventories, account books, clippings, maps and financial papers pertaining to the Hopkins and Hopper families. The collection includes information on a wide range of topics including farm life on Long Island, Glen Cove (New York) history and the Civil War. The bulk dates of the collection are 1860-1905. The correspondence of the Edwin A. and Mary Hopper Hopkins family (c.1869-1910) documents the life of the family and their farm. These letters include references to money matters, school, health, Glen Cove people, farm matters and family news. Edwin A. Hopkins also kept a farm diary from 1869-1893. The diaries give details of his farm schedules and work, animal births and deaths, weather, and some notes on family members. Some pages have illustrations in the margin. The legal and financial papers document their investments, loans, mortgages and tax payments over the course of fifty years (c. 1860-1910). Hopkins family property on Long Island is documented by maps and indentures dating from the 1860's. Several inventories (c. 1914) of the family's belongings include everything from vases and dinnerware to the books in the library. Also of interest are the materials pertaining to the Hopper family relatives, especially two Civil War diaries (1861-1862) kept by Abby Hopper Gibbons, who served as a nurse in Washington, D.C. and Point Lookout (Maryland).
---
Browse within this collection
Additional Information
Scope and Content Source:
Browse similar collections