Diaries of Helen Alexander
Cover Image: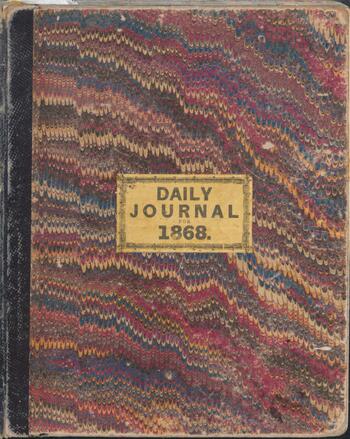 Collection Facts
Dates of Original:
1861-1880
Historical Context
Helen Alexander was born on November 19, 1838, to Hannah (Houghtaling) and John Smith on the Col. Morgan farm near where Wells College now stands in the village of Aurora, Town of Ledyard.
Her father, John H. Smith, was born in the white sand district of New Jersey and when a young man, he decided he could find nothing worse so started out and located near Aurora. Without educational opportunities but as a good worker with good judgement, he worked for the Morgans on their farms. As there seemed to be a surplus of John Smiths around there, Col. Morgan gave him the name of Honest John and his name ever afterward was John H. Smith.
Helen was one of 6 children.  When she was 6 years old (her youngest sister, Emily, only 4) her mother died.  In the following year, in December of 1844, their house burned down, burning up their winter supply of pork just butchered and all their winter clothing. They lived with a neighbor through the winter. Helen's grandmother Houghtaling came to live with them for 7 years until her death in 1851 when Helen was 13.
In April 1858, Helen's father bought a farm on Kings Comers Road, just across from the Alexander farm on Brick Church Road. She was introduced to Jason Alexander soon after.  They were married on February 8, 1859.
Helen began to write in her diary every day, and continued the habit until her death. The couple lived with Jason's parents, William and Susanna (Anthony) Alexander; Susanna was a cousin to Susan B. Anthony, a founder of women's suffrage. On July 6, 1883, William A. Alexander was born to Jason and Helen Alexander; he was their only child.
Despite only having brief schooling in a one-room schoolhouse, Helen wrote very well.  Her writings reflect a deep religious conviction with great love for her family and an interest in national affairs with as much information as was available to her. She was a devout Baptist, having been baptized in the waters of Cayuga Lake in Union Springs by Rev. Edgar Smith on October 8, 1865 which she writes as the "the happiest day of my life."
- derived from information from Jacqueline S. Alexander
---
Browse within this collection
Browse similar collections