Celina McDonald Seitz (1930-2017) Collection
Cover Image: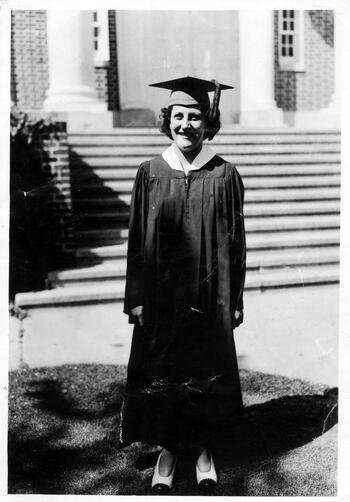 Historical Context
Celina Seitz grew up in a time when an unfamiliar car cruising down Montauk's Main Street would turn the heads of youngsters seated at the soda fountain of White's, the local drugstore. People in Montauk – to which her parents had moved from a tiny French-Canadian fishing village – generally knew each other well, and life's intrigues and pleasures tended to be modest.
Photos in this collection recall Montauk's former fishing village on Fort Pond Bay, where Celina (nee McDonald) Seitz grew up until the Hurricane of 1938 forced her family to move upland to Shepherd's Neck, a Carl Fisher housing development in Montauk. The photos also represent the sister fishing village of D'Escousse, located in a region of Nova Scotia where many of Montauk's early immigrants – the Pittses (or Petitpas family) and the Burkes among them -- originated. Family photos and documents span more than a century and many generations, from Celina's ancestors in D'Escousse to her late sisters, Frances Ecker and Eva Collins, who along with her children celebrated her 70th birthday in Montauk before her death at the age of 87.
In an oral history for the Montauk Library, Celina and her sisters spoke warmly about the childhood they shared with their late brother, Vincent McDonald, in Montauk. Their father, Leonard, worked until he was 88, doing everything from picking up mail from the Express train that would deliver goods from New York City to Fort Pond Bay to cleaning public restrooms for the town. Their home was a hub for visitors; card games and refreshments and reading the funnies created a hub of what the sisters called "Canadian hospitality."
Celina graduated from the Montauk School and East Hampton High School, later working as a teller at Osborne Trust, the only bank in East Hampton at the time. She met her future husband, Louis Seitz, when he was working at what was then a 5 & 10 in Montauk, where he also worked on a fishing boat as a mate.
The Seitzes lived in East Hampton Village for a while, then moved with five (of what would become six) children, seven dogs, and a cat to a house overlooking Northwest Harbor when Louis was named the superintendent of Cedar Point Park in 1969. They stayed there for more than 15 years.
"It was a great place to live," Celina said in the oral history interview. "The sunsets were out of this world."
Scope of Collection
This collection includes personal photographs dating to the beginning of the 20th century, as well as documents such as baptismal and citizenship certificates tracing the McDonald/Burke families back to D'Esousse, Nova Scotia, which Celina Seitz visited during her lifetime.
There are photos of family weddings, graduations, and birthday parties, all shedding light on Celina's childhood on Fort Pond Bay and teenage years in Shepherd's Neck.
---
Browse within this collection
Browse similar collections