Cover Image: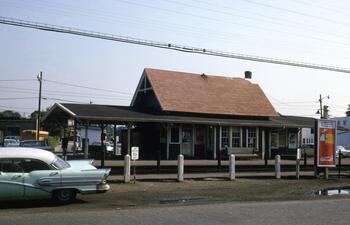 Historical Context
Wantagh Train Station
The Long Island Railroad was incorporated by the New York Legislature April 24, 1834. The purpose was to construct a railroad from the city of Brooklyn to Greenport, Suffolk County. From Greenport a steamship would take passengers to Stonington Conn., where passengers could take another railroad to Boston.
The railroad was built from Jamaica in 1837 and completed at Greenport by 1844. The link from Brooklyn to Jamaica was completed earlier.
The dream of a Brooklyn to Boston transportation connection was short lived by the completion of a Connecticut line from Boston to New York soon after. From then on, the railroad concentrated on local traffic on Long Island and competition from the North Shore Railroad and the Southside Railroad.
It was the Southside Railroad that set up a depot South of Jerusalem in 1867 called Ridgewood Station. In 1885 a station with an indoor waiting area and a ticket agent office was built. The three competing railroads were combined during the 1890's into the Long Island Railroad. After a contest sponsored by the local Congregational church the village and railroad station were renamed Wantagh.
The station functioned as a transport hub while the village expanded around it with stores and hotels for vacationing city folk. Around the turn of the century a baggage storage room was added to the station. In the 1930's restrooms were added to the station.
After World War II the population of Long Island grew tremendously, Wantagh included. A program of elevating stations had begun in the 1930's with Western Nassau County railroad stations due to traffic congestion and accidents. This program was expanded during the 1960's to include stations in the Wantagh vicinity.
The old station that had served Wantagh for 80 years was slated for demolition. However, the recent destruction of Pennsylvania station in New York City had begun a preservation movement in the nation to preserve historic buildings. Fortunately, some visionary Wantaghites led by Margaret Aiken and Warren Hiltonsmith persuaded the railroad to save the station. To this the railroad agreed and the station was moved for free in 1966 to its present location on Wantagh Avenue.
The state aided in the endeavor by granting an educational charter to the new preservation society to make the station a museum and provided Wantagh Parkway land for the museum's new location.
It was decided to restore the station to the way it appeared in 1904. After sixteen years of hard work and fundraising, this task was accomplished. Finally, in 1982 the Wantagh Museum was opened to the public during a gala celebration. In 2016 another celebration was held on the fiftieth anniversary of the building's move down Wantagh Ave., where it has served as a community focal point ever since.
Scope of Collection
Photos and assorted memorabilia relating to the history of the working station and the movement and dedication of the Wantagh Museum.
---
Browse within this collection
Additional Information
Scope and Content Source:
Browse similar collections