Orangetown Historical Museum & Archives
Logo:
196 Chief Bill Harris Way
Orangeburg, NY 10962
Phone: 845-398-1302

About
The Orangetown Historical Museum and Archives was founded in 1992 in order to acquire, preserve and exhibit objects which reflect primarily the history of the Town of Orangetown. The Museum's additional but not lesser mission is to document, research, promote and publicize the rich historical heritage of the town for the people of Orangetown. The museum is housed in two distinct buildings bearing Dutch sandstone features indicative of the area--the historic Salyer House, and the DePew House.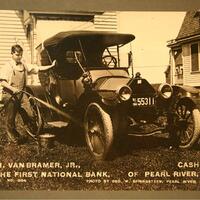 Historic photographs of Pearl River landscapes and residents.