Stephen Pearl Andrews Collection
Cover Image: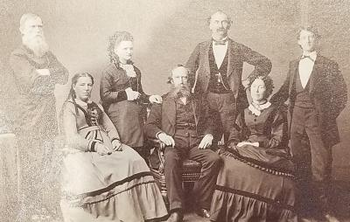 Historical Context
Stephen Pearl Andrews was an American philosopher and social reformer of the 19th century. Along with Josiah Warren, whose ideas he promulgated, Andrews was one of the founders of Modern Times, a utopian community existing from 1851 to 1864 in what is now Brentwood, New York.
Born in Massachusetts to a prominent family of minsters, Andrews had early success in Texas as a lawyer translating Spanish documents. He then became involved in the abolition movement. Andrews was involved with a number of nineteenth century reforms and progressive ideas including phonography, spiritualism, women's rights, and the controversial free-love movement.
The Andrews family was also involved in controversial reforms of the day. Son-in-law, Theron C. Leland was one of the United States' first phonographic reporters (having been trained in Andrews' school). His son William Swain Andrews was an actor, then lawyer and politician. Leland's daughter, and WS Andrews' wife, Rachel "Lillian" Leland, would become famous for her trips around the world – done to demonstrate the independence and capacity of women.
Scope of Collection
Archival box of several folders of materials including photos, ephemera, booklets, and periodicals.
Collection of materials were donated by his grandson of the same name.
Browse similar collections