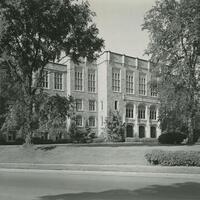 This collection contains photographs of the outside and inside of buildings on the Albany Law School campus.
The Maurice Leyden Collection consists of diaries, photographs, correspondence, financial records, essays and military records of Maurice Leyden. The collection also includes twenty-two diaries, dating from 1860-1886 and written Sarah Woodruff Pottle, a relative of Mr.
The abolitionist newspaper, New National Era, was published by Frederick Douglass in Washington, D.C. between 1870 and 1874.