Albion W. Tourgee (1838 - 1905) was a Civil War veteran, politician, and lawyer. He played a pivotal role in the Plessy v. Ferguson case and was a pioneering civil rights activist. This collection includes his correspondence, as well as legal documents, articles, and photographs.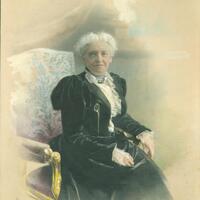 Items from the papers of historian Elsie Gutchess, including primary and secondary materials relating to the history of women in the United States.
Collection of portraits, articles, memorabilia, and papers of Frances Folsom Cleveland Preston, with emphasis on her time at Wells College, in the White House, and her time in Aurora, NY as a Wells College trustee and wife of Thomas Preston.