This collection features Acorn Stove trade cards from the collection of the Albany County Historical Association. The cards were created after 1850 to advertise Acorn Stoves, which were manufactured by the Albany company, Rathbone and Sard.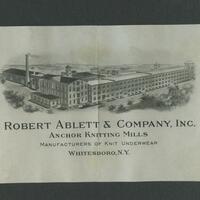 A scrapbook of Ablett Mill, with interior and exterior photographs of the wool mill in Whitesboro.
The William N. Weeden Color Printing Manuscript is an inventor's hand-written account in 1886 of his discovery of a printing method that produced multi-color printing with one impression. The collection includes color prints generated by the process.