Depicts life in Saratoga Springs, New York from a "local" perspective as captured by photographer Harry B. Settle and a few aspiring photographers.
The Way We Were Town of Saratoga collection includes vintage postcards and photographs with descriptive captions from the first half of the 20th Century in the Villages of Victory and Schuylerville along with the Town of Saratoga.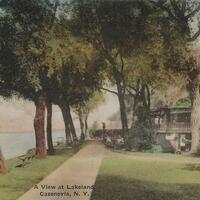 The Witherill Postcard Collection contains mailed and unmailed postcards of businesses, structures, and local scenes of Cazenovia, NY and its vicinity.