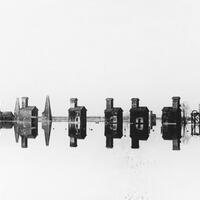 Ted Schuelke was a Liverpool, New York resident and his photograph collection is comprised of pictures taken in the immediate Liverpool area and in the Adirondacks.
A collection of photographs from the groundbreaking and early years of the Southside Community Center, some taken by photographers from the Works Progress Administration, a New Deal program that supported the creation of the Center.
This collection consists of issues of the Beacon/Libernoster dating between 1946 and 1951.