Scrapbooks containing meeting minutes, programs, brochures, newspaper clippings and photographs concerning a late 19th and early 20th century women's suffrage organization in Ithaca, New York. Some materials reference New York State and national suffrage matters.
The Proceedings provide a record of land disposed or acquired by the State of New York, including lands for New York's canal system.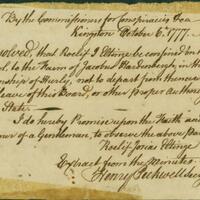 Beginning in 1777, this collection follows Roelof Josiah Eltinge through his legal troubles of being an accused loyalist in New Paltz, NY.