The Elmira College women's rights and suffrage collection is an aggregate of records from the Elmira College Archives.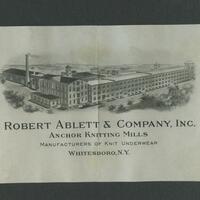 A scrapbook of Ablett Mill, with interior and exterior photographs of the wool mill in Whitesboro.
Two scrapbooks compiled by Anne Maycock Hopkins, wife of Dr. Horace G. Hopkins, physician at former Willard Asylum and Willard State Hospital from 1874-1894.