This extensive glass-plate collection contains the work of Franck Taylor Bowers (1875-1932) a Broome County artist and photographer.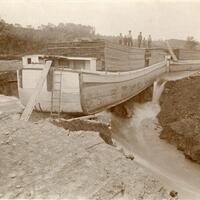 Photographs of the Erie Canal in and around Schenectady, New York. Includes images of the construction of the canal and architectural features of the canal, such as aqueducts, bridges and locks.
Images taken by William Seward (Will) Teator (1860-1930), between 1890 and 1910, of Upper Red Hook (N.Y.) scenes, people, family groups, buildings, etc.