Photographs portraying Highland Hospital School of Nursing during World War II.
The New York Ordnance Works Collection consists of photographs, maps, and official documents related to the New York Ordnance Works (NYOW), which was in active production during World War II.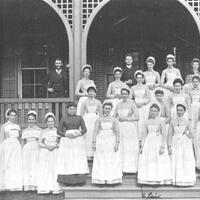 The Rochester General Hospital School of Nursing was one of the earliest nursing schools in the United States. This collection includes class photographs and portraits of the graduates, spanning the School's inception in the late-19th century  through its closure in the mid-20th century.