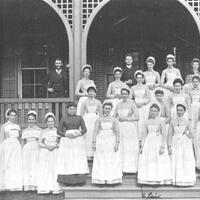 The Rochester General Hospital School of Nursing was one of the earliest nursing schools in the United States. This collection includes class photographs and portraits of the graduates, spanning the School's inception in the late-19th century  through its closure in the mid-20th century.
Rochester Homeopathic Hospital, later known as Genesee Hospital, was an important medical facility in the Rochester region. This collection includes images of the Hospital throughout its existence.
The Rochester Homeopathic Hospital Training School, later known as the Genesee Hospital School of Nursing, was a leading medical education center in the region. This collection depicts the nursing students throughout the School's administration from the late 19th century through late 20th century.