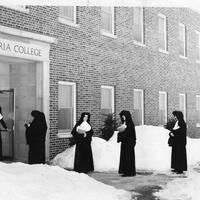 This collection contains items related to Maria College.
Celebrating 50 years of Nursing education at Maria College. Collection contains photographs, ephemera, manuscripts, articles, correspondence, booklets, announcements and press releases relating to the nursing program from its inception in 1970 to 2020.
This collection contains photos and documents that pertain to Maureen O'Sullivan and James Cushing.