Presented here are selected images of Red Hook (N.Y) and the Hudson Valley taken by Harriet Martin Dey.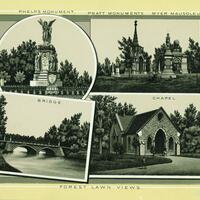 The collection contains images from the 19th and 20th Centuries showing historic views of Forest Lawn. These images are digitized from original glass plate negatives, photographic prints, lithographic drawings, stereoscopic views and commercial postcards.
Photographs and ephemera relating to Lakewood, New York in the early 20th century.