The Crouse Hospital History collection contains black & white and colored photographs of Crouse Hospital and the staff and students who resided there from the late nineteenth through twentieth centuries.
Photographs and documents relating to Fairfield Medical College, an upstate New York medical college associated with Geneva Medical College and Syracuse University Medical College in the mid-to-late 19th century.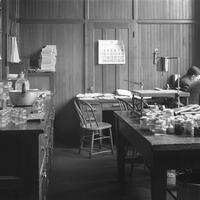 Photographs, correspondence, and newspaper clippings relating to the early campuses of the Syracuse University College of Medicine in Syracuse, New York in the late 19th and early 20th century.