Maps selected from the 1935 Buffalo Municipal Housing Authority Report.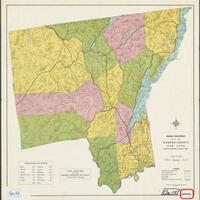 Finch, Pruyn and Company was founded in 1865 when Jeremiah and Daniel Finch, along with Samuel Pruyn, purchased the Glens Falls Company mill in Glens Falls, New York. The company was incorporated in 1900 and paper production began in 1905 and still continues to this day.
This collection contains regional maps dating from 1827 to the 1980's. Both individual maps and bound maps, such as plat maps, are included.