Corning Community College owns an autograph collection of over 100 noted statesmen, presidents, Revolutionary War heroes and authors including Henry Clay, Jules Verne, Theodore Roosevelt to name a few.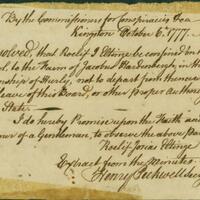 Beginning in 1777, this collection follows Roelof Josiah Eltinge through his legal troubles of being an accused loyalist in New Paltz, NY.
Letters relating to the War of 1812 in New York.