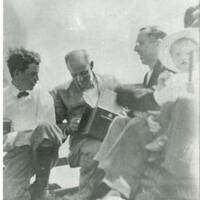 Elon Howard Eaton (1866-1935) was a noted ornithologist and author of Birds of New York. This collection includes papers related to his research, correspondence, and genealogical materials, as well as photographs of Eaton.
This collection consists of letters and marginalia of Samuel Clemens, artifacts associated with him and photos having to do with Clemens' time in Elmira and the family and friends that comprised his circle.
The State Reservation at Niagara is the oldest state park in the United States, officially established in 1885. The collection includes photographs, advertisements, blueprints, maps, letters, and other documents relating to the development and use of the Park.