Cover Image: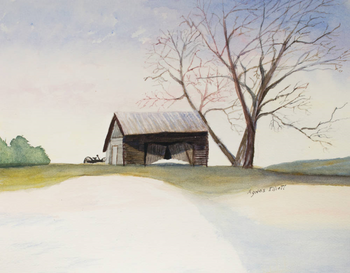 Collection Facts
Dates of Original:
1989 - 2013
Historical Context
Agnes Elliott was born November 21, 1917, the second of five children. She graduated from Minoa High School in 1935, and began her culinary arts education at Morrisville College. It was at Morrisville that she met her husband Jack, a farm management major. They married in 1942, after Jack was drafted and sent to officer training school. Agnes followed Jack through many military posts around the country. In 1943 Jack was shipped overseas, and Agnes, and oldest daughter Jackie, came back to Syracuse to be near both Jack's and her families. When Jack was discharged in 1945, he and Agnes built a house in Sherburne, NY and lived there until their move to New Woodstock in 1950.
It was in New Woodstock that Agnes's artistic career started to take off. She was involved in many community projects, such as serving school lunches at the New Woodstock School, her involvement in local 4-H as a leader and sewing educator for girls, upholstering furniture and dress making as a private business, etc. In 1961 she decided to get her driver's license and became an employee with Dey Brothers in Shoppingtown. She decided she didn't like winter driving, so she found employment closer to home, becoming a cook at both the Lincklaen House and the Brae Loch Inn in Cazenovia, as well as a baker at the Grand Union in Manlius. Agnes used her artistic and culinary talents in everything she accomplished. Her creativity included gardening, knitting, cooking, sewing, raising four children, planning and designing long camping trips, taking care of many "critters" such as dogs, cats, rabbits, pigs, pheasants, chickens, turkeys, etc.
At the tender age of 70, Agnes began taking painting lessons, while wintering in Florida with Jack, and the rest is history. She still vacations in Florida with her daughter Nancy and Nancy's husband Clark, where she paints until they leave Florida for DeRuyter, NY in the spring. Then it's all about the gardening for Agnes, another palette for her to experiment and create with.
Agnes is our own "Grandma Moses" of New Woodstock. She still comes by and visits us, living in nearby DeRuyter since 2009. The New Woodstock Free Library hosted an exhibit by Agnes in the summer of 2017, which was well attended by the community. Agnes was also honored at the New Woodstock Old Home Days celebration in July of 2017. We are proud to know her. Her paintings represent her love of flowers, nature and the landscapes of both Florida and Central New York State. Her creativity and joy of life is present in all of her works and we share them with pride.
Scope of Collection
This collection includes paintings from Agnes Elliott's personal collection.
---
Browse within this collection
Additional Information
Scope and Content Source:
Browse similar collections